Wonder World Tour

Tour by Miley Cyrus
Associated Albums
Breakout
Start date
September 14, 2009
End date
December 29, 2010
Legs
2
Shows
45 in North America

11 in Europe 56 in total

Box office
$67 million
Miley Cyrus concert chronology
Previous tour
Best of Both Worlds Tour (2007-2008)
This tour
Wonder World Tour (2009)
The Wonder World Tour is the second concert tour by American recording artist Miley Cyrus. The tour was held to promote her second studio album Breakout (2008) and first extended play (EP) The Time of Our Lives (2009). It began in September 2009 and concluded in December 29, visiting cities in the United States and United Kingdom; thus, the Wonder World Tour became Cyrus' first world tour. It also became Cyrus' first tour not to incorporate performances as Hannah Montana. Alternative band Metro Station served as opening act for all tour venues. It was sponsored by Wal-Mart and promoted by AEG Live. All tickets from the Wonder World Tour were sold using paperless ticketing, in order to prevent ticket scalping similar to what had occurred during Cyrus' previous tour. One dollar from each ticket sold was donated to the City of Hope National Medical Center, an organization devoted to the fight against cancer.
The Wonder World Tour has been described as part of Cyrus' transitional period, with more elaborate and edgier characteristics. Each concert was divided into seven segments, each of which bared different themes, the subject of matter for the tour's title. The show opened with Cyrus performing rock-oriented songs. It also featured her and backup dancers being suspended above the stage with aerial rigging various times. At one point, she mounted a Harley-Davidson motorcycle as it was elevated and made its path across the venue. Cyrus also rendered a tribute to the deceased singer Michael Jackson and performed two Hannah Montana-credited songs as herself.
The tour received positive to mixed reception from critics. Some praised it and deemed it a spectacle, while others believed it lacked profundity and portrayal of Cyrus' personality. The Wonder World Tour was commercially successful despite the financial recession that was present in 2009. It was able to sell-out all European dates in ten minutes and marks the largest attendance at The O2 Arena in London, England. During the first leg of the tour, one bus overturned several times on a highway. The accident resulted in the injury of one person and the death of another. The cause of the accident is yet to be specified, yet multiple theories for it exist. A filtered version of the Wonder World Tour was broadcast on the American Broadcasting Company (ABC) on June 18, 2010 and received a total of over 2.6 million viewers. The full-length concert film was released on the limited, deluxe edition of Cyrus' third studio album Can't Be Tamed (2010).
Background
Edit
Cyrus is a singer-songwriter and actress who starred on the Disney Channel television series Hannah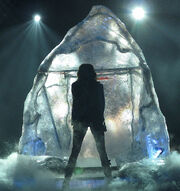 Montana as Miley Stewart, a girl with a secret double life as the popstar Hannah Montana. Through the television series, Cyrus developed fame as a teen idol and released music credited to Hannah Montana. Cyrus' debut studio album, titled Meet Miley Cyrus, was released as the second disc of the Hannah Montana 2/Meet Miley Cyrus (2007) double-disc album. In order to promote the album, Cyrus embarked on her first tour, the Best of Both Worlds Tour (2007–08), a North American tour where she performed both under character, as Hannah Montana, and as herself. With the release of Cyrus' second studio album, Breakout (2008), her first not be affiliated with the Hannah Montana franchise, and an extended play (EP) The Time of Our Lives (2009), Cyrus decided to embark on tour again with the Wonder World Tour, however, without incorporating performances as Hannah Montana, a step which the media interpreted as furthering her distance from the Hannah Montana franchise.  
The concert tour was announced alongside Cyrus' joint apparel line with Max Azria on June 3, 2009, through various outlets, including Miley' Twitter account, a press release, and MileyWorld, Cyrus' official fan club. It was confirmed that the tour would be sponsored by American retailing company Wal-Mart and promoted by AEG Live. It would expand throughout the United States, from September 14, 2009 in Portland, Oregon to December 2, 2009 in Miami, Florida, with a total of forty-five dates. Alternative rock band Metro Station, where Cyrus' older brother, Trace Cyrus, integrates in, was confirmed as the opening act for all dates. Two days later, a European leg, with nine dates in the United Kingdom, was announced, marking Cyrus' first concerts to visit another continent. On June 16, 2009, two more dates were annexed, and one final date was annexed in October 2009, in order to meet demand.
All tickets for the Wonder World Tour were sold exclusively through paperless ticket delivery, meaning that fans did not receive a physical concert ticket for their entry into the event. Ticket buyers were required to bring the credit card used to make the purchase and photo identification to the concert venue in order to gain entry. All groups were to enter the concert together, and ushers issued seat locator slips. The method of ticket sales was relatively new at the time, although Ticketmaster first experimented it with AC/DC's Black Ice World Tour (2008–10). However, it marked the first time for an arena tour to sell all tickets through paperless ticketing. This was done in response to the extensive ticket scalping that occurred during the Best of Both Worlds Tour and in order to give fans the opportunity to purchase good tickets at face value. Cyrus' manager and president of Morey Management Group, Jason Morey, stated, "The focus was, 'How do we take all the information we gathered last time out and do a better job of it?' It was important to us to address the issue of demand. We thought that of every single option that was available out there, this was a really viable option, to go with the paperless ticketing." As with the Best of Both Worlds Tour, one dollar from each ticket purchased was donated to the City of Hope National Medical Center, a center dedicated to the prevention, treatment and research for the cure of cancer. 
Development 
Edit
The tour was titled the Wonder World Tour because of its diversity in themes and styles. Cyrus believed the tour was good transition for solidifying a more rock music-based career. She described the tour to be edgy and "more of a mature show", with the target audience being teenagers relatively her age, which was sixteen at the time. However, performances that would please younger audiences were added to the setlist. It was conceptualized to be a more elaborate than Cyrus' previous tour and to reflect Cyrus as an individual. The reason for this to occur was because Cyrus felt more confident as a vocalist to perform stunts and use props while singing. Also, more resources were available, for more companies were willing to invest in the tour. Ideas were suggested by different individuals and were tested during filmed rehearsals in order to decide which would make the final cut. "Each person has their own character and their own story. So, we've added everyone's kind of specialty into our show [...] This is not just a concert, it is an absolute show", Cyrus said After having completed filming for The Last Song (2010) in Tybee Island, Georgia, Cyrus returned to Los Angeles, California for tour rehearsals at The Forum in mid-August. Due to filming The Last Song, Cyrus was only able to rehearse for three weeks although the average rehearsal period for musicians is about three months.
Jammal Simms was hired as the tour's director and main choreographer. Octavious Terry served as an assistant for directing, meanwhile Dondraico Johnson assisted choreography. They, along with twelve other members, composed the tour's creative team. In total, the Wonder World Tour included 124 traveling workers, 19 truckloads of equipment, and 15 buses. The stage was quite different from that of the Best of Both Worlds Tour. It consisted of a rectangular main stage, which featured staircases that elevated the center of the stage, and a narrow runway, which connected the main stage to a B-stage that ran the length of the main stage. Regarding the stage, Cyrus noted that it was "something not many people get to have. I'm able to move around to each side so there's no one person who feels like they don't have the best seat. Every seat is the best seat." Six LED multi-screen video units were located throughout the stage; the three largest were placed as the upstage wall, while the other three were hung by rigs above the stage. The center unit consisted of three screens that faced outward; two others were hung right and left to the center unit, both were double faced toward the center of the venue at a 45° angle, while the backside faced the upper-seat audience. The structure of the video panels was designed by Sims to ensure that all seats within the 270° angle at each venue received an equal view of the video screens. Video content and lighting were designed by Seán Burke; the latter was provided by Production Resource Group (PRG).
The tour used seven individual rigs for performers and props to become airborne. For dancers to be flown to the center of each upstage, a wench, which dropped 18 inches off the face of the panel, was placed in the rig. Cyrus' flying required two wenches, one for a vertical lift and one for a horizontal move that coursed the audience and back to the stage. Four elevators, or trap doors, were located throughout the stage, some of which had the option of a 4×4 or an 8×8 foot opening. All of the fly rigs and elevators were built and operated by Show Group Production Services (SGPS)/Showrig. The challenge that presented the most difficulty for SGPS was time constraint, as there were only three weeks of rehearsal. Brian White, co-owner of SGPS, explained,"There wasn't a lot of time, but the good news was that it was at the [L.A.] Forum, which gave us a lot of height to fly things around, and there was also a lot of room to lay stuff out on the floor. The other good thing was that our offices are only 10 minutes away. So if I had to send a welder down there to make some changes I could do it pretty fast. The biggest thing we had going for us was a great crew. We had some really good people out there." [...] I'd say that about 90 percent of what we built on Miley Cyrus fit the first time in rehearsal. The only reason we had to retro fit anything was because of last minute design changes that came about once everything was up and they could see it all." 
Special effects and pyrotechnics were provided by Pyritz Pyrotechnics Group. Terry Ritz, founder of the organization, and his partner Steve Aleff had created various ideas based on the tour soundtrack that was provided to them by the Wonder World Tour's personnel. They met with the tour's choreographer, band manager, and lighting designer, asking them to bring their "hopes, wishes, and dreams." Out of these meetings, the show was completed and a lighting crew, who monitored the stage with a four-camera monitor system when cues were executed, was selected. The pyrotechnics for the show were described as more elegant and subtle, being composed of pink flames with accentuation of silver and white glitter. Because of the extensive automation executed throughout the concert, two personnel were in charge of running it. Neville Emerton ran the automation from under the stage, and Sean Conner ran all of the flying moves from a position at the front of each venue. Meanwhile, assistant stage manager Seth Posner called cues for each concert. "Normally, in a rock show you don't need someone calling the show. In this one we had to take a more theatrical approach with someone calling cues every step of the way because there was so much going on at once between props and automation", explained production manager Omar Abderrahman. One of the props that required much attention on the part of Posner was a car made to resemble a tractor, designed and built by effects designer and stage manager Scott "Stryker" Christensen. Because it came along late in the design process, the main elevator was not built to handle the weight of the car, though it was eventually reinforced to support the weight and movement of the car. The car was also modified; it was made electric, instead of using a combustion engine, for fire-safety and changed to turn around by adjusting its turning radius to automate steering with all four wheels. In order to translate the concert tour overseas to the United Kingdom, the Wonder World Tour paired with Sound Moves, a company that was already providing minor support for the North American leg of the tour. 
The main show commenced with Cyrus emerging from the bottom of the stage inside a large, crystal-like glacier. She wore a black leather hot pantsuit, a tank top, and a white fur vest with a silver sequined hood as she escaped the cocoon to perform the concert's opening number, "Breakout". Numerous backup dancers accompanied her and, towards the conclusion, she performed atop movable scaffolding. After removing the fur vest, Cyrus performed "Start All Over" atop the scaffolding and continued the remainder of the first segment of the show with "7 Things" and "Kicking and Screaming". Cyrus then executed the show's second segment with a performance of "Bottom of the Ocean", which featured an aquatic theme for the stage and Cyrus donning a silver, flowing evening gown that bared a bejeweled bodysuit underneath. The performance ended with Cyrus diving into the stage, succeeded by a simulation of her underwater on the video screens. Cyrus returned to the stage for the show's third segment atop a tractor-resembling car to perform "Fly on the Wall". During the performance, Cyrus wore an extravagant white dress with a feathered skirt. Backup dancers were flown up into contact with panels in order to resemble a fly on a window; meanwhile, Cyrus was flown across the arena. Once back in the stage, Cyrus and backup dancers performed a brief dance interlude of Michael Jackson's "Thriller" (1984). Replacing the feathered bottom with a tutu, Cyrus performed the Hannah Montana-credited song "Let's Get Crazy" and "Hoedown Throwdown". The latter was followed by a video in which will.i.am of The Black Eyed Peas spoke about Cyrus, as she left the stage. When the video was completed, the dancers performed a remix of the Black Eyed Peas' "Boom Boom Pow" (2009).
The show's fourth segment opened with "These Four Walls", in which Cyrus wore a black high-low dress. The song was performed in B-stage with various acoustic musicians. The show proceeded with "When I Look at You", a performance that featured the trailer for Cyrus' film The Last Song (2010) and her performing with a grand piano. It concluded with "Obsessed", which the singer performed atop a simple suspension bridge. She re-entered the stage, clothed by a black tee, red cheetah-patterned hot pants, and black boots, to perform the second Hannah Montana-credited song "Spotlight" and, later, "G.N.O. (Girl's Night Out)", replacing the prior hot pants with black ones and adding a denim vest. She followed with a cover of Arrows' "I Love Rock 'n' Roll", where Cyrus mounted a red Harley-Davidson Dyna Fat Bob FXDF 2010 that was suspended above the stage and traveled in a semi-oval path across the venue Performances of "Party in the U.S.A.", which made use of a luggage cart, and "Hovering", which featured Cyrus' older brother Trace Cyrus, rounded off the segment. The sixth segment of the show featured Cyrus performing "Simple Song", in which she dressed in a long, white shirt and a black tuxedo, in order to simulate a music conductor. Midway through the performance, Cyrus stepped onto an elevator that rose eight feet from the stage. She exited the stage and returned for the final section. During the encore, Cyrus dressed in a white tank top and shorts, boots, and a metallic vest to perform "See You Again", later removing the vest to conclude the concert with "The Climb". Immediately after finishing, she exited through a passageway in the stage as fireworks were fired above.
Critical feedback
Edit
Mikael Wood of The Los Angeles Times, in reference to Hannah Montana, commented, "Once again, make-believe Miley was more compelling than the real thing." Wood believed Cyrus possessed charisma, commenting that she portrayed superstar authority, but failed because she was unable or unwilling to "give her fans a deeper idea of who she is and what her music means. For all its eye-popping detail, the concert offered nothing that viewers of her TV show or buyers of her records don't already know about her." Dave Paulson of The Tennessean stated, "Cyrus' spectacle sets her apart from nearly every other A-list act touring today. She's not a renowned vocalist by any stretch, but her show's choreography barely provides a moment for her to catch her breath, and she's still able to deliver." Michael Hann of the United Kingdom-based Guardian was impressed by the concert, praising the setlist and deeming it enjoyable for both children and adults. He continued, "Good as the best songs are, though, they take a backseat to the staging [...] The one misstep is when a trailer for her next movie is shown during a costume change. It's a tacky moment and doesn't reflect the attention to detail that makes the rest of it a laugh-out-loud delight." Lael Loewenstein of Variety magazine said, "Cyrus knows how to deliver the goods without losing her core audience." Loewenstein deemed the concert a mission accomplished because of inevitable hits and Cyrus' charisma, drive, spunk, and a merely-limited vocal range. Erik Ensrst of The Milwaukee Journal Sentinel praised the show, stating that it was "a pure visual spectacle", but commented that producers forgot a place for Cyrus' personality.
Jim Harrington of The Oakland Tribune described the show as a human embodiment of Britney Spears' "I'm Not a Girl, Not Yet a Woman" (2002). He presumed that the tour was a conscious transition for fans who did not want Cyrus to separate herself from the Hannah Montana franchise. Kirsty Cameron of The Daily Telegraph wrote, "Despite her relatively young age, Cyrus showed her unfailing capability as performer. With the help of her back-up dancers, Cyrus provided her audience with choreographed set pieces and a different spectacle for each song." James Reed of The Boston Globe noted that the Wonder World Tour presented Cyrus as both a "PG-rated tween pop star and an edgy rocker eager". He stated that although she played both roles well, it was apparent that she was more at ease with the latter. Reed also felt the concert did little to display Cyrus' personality and ability to engage with the audience. "We know she's got impressive vocal chops, but now we need to feel what she's trying to put across in her songs, something beyond the standard 'You guys are awesome!' banter." Scott Iwasaki of Deseret News reviewed a concert in which Cyrus was ill. He mentioned that because of her illness, her voice went flat. Iwasaki also expressed his viewpoint that "if there [were] any worries that Miley Cyrus would become another Britney Spears train wreck, those worries were quelled during Tuesday night's show. She kept the show family-friendly and, although obviously sick, looked like she had a good time." Marlin Levison of The Star Tribune believed the concert lacked much profundity until the last performance.