Miley has 36 known tattoos. She also has a new confirmed but unknown tattoo that was noticed in her Younger Now photoshoot. She got her first tattoo in 2009 when she was 17. Here are some of her tattoos!
not all tattoos are listed.
Just Breathe
Edit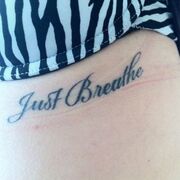 Miley' first tattoo was inked just below her left breast, when she was only 17. The chest tattoo reads "Just Breathe," and is a tribute to her friend Vanessa, who died of cystic fibrosis in 2007, and her two grandfathers, both of whom died of lung cancer. As Miley says about the tattoo under her left breast, "It reminds me not to take things for granted. I mean breathing – that was something none of them could do, the most basic thing. And I put it near my heart, because that is where they will always be." Miley's "just breathe" tattoo was inked in December 2009 two years after her friend with cystic fibrosis passed away.

Miley's first finger tattoo was the heart on her pinkie. All of Miley's family members have heart tattoos on their hands.
Equal Sign
Edit

Miley got an equal sign tattooed on her ring finger to show her support for marriage equality. "All LOVE is equal," she wrote when sharing the tattoo on Twitter. Miley has been an outspoken advocate for legal gay marriage and did a photoshoot for the NOH8 Campaign.
Nazar the evil eye
Edit

Miley has a Nazar the evil eye tattooed on the knuckle of her index finger.

Miley got "LOVE" tattooed on the inside of her right ear to remind her to only listen to love, and to drown out all the negativity that she hears.
Dream catcher
Edit

large dreamcatcher tattoo on her side represents protection for her family. Four feathers symbolize each of her siblings.
Love never dies
Edit
In February 2012, Miley got "love never dies" inked on the inside of her left bicep.
Theodore Roosevelt quote
Edit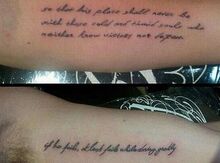 long passage on Miley' left forearm says "so that his place shall never be with those cold and timid souls who neither know victory nor defeat." It comes from the Citizenship in a Republic speech given by former United States president Theodore Roosevelt in 1910. Miley's fiancé Liam Hemsworth got a Theodore Roosevelt quote tattooed on his arm the same time Miley did.

Miley got an anchor tattooed on her right wrist to represent the feeling of a safe harbor.

Miley got a portrait of her Shetland sheepdog Emu inked on her arm in April 2017. The puppy ink was done by Los Angeles tattoo artist Doctor Woo, who specializes in detailed grayscale looks.