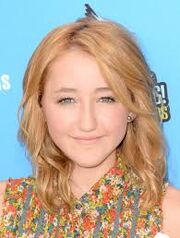 Noah Lindsey Cyrus is Chris' younger paternal half-sister, Brandi & Trace's younger maternal half-sister/adoptive little sister, and Miley & Braison's little sister who has has small parts within the famous series Hannah Montana as various little girls. Her careers are animal rights activist and singer-songwriter. She hopes to follow in her sister's footsteps by singing and appearing on Disney Channel. Noah's first major movie role was on an anime film called Ponyo (2008) and she voiced the main character, Ponyo. 
Noah has an Instagram.
She was born January 8, 2000, she's 17 years old. 
Along with her big sister, Miley, she was born in Nashville, Tennessee.
Her nickname is Noie.
Ad blocker interference detected!
Wikia is a free-to-use site that makes money from advertising. We have a modified experience for viewers using ad blockers

Wikia is not accessible if you've made further modifications. Remove the custom ad blocker rule(s) and the page will load as expected.