Liam Hemsworth (born January 13, 1990) is an Australian actor. He played the role of Josh Taylor in the soap opera, Neighbours and as Marcus on the children's television series, The Elephant Princess. In 2010, he starred with Miley in the American film, The Last Song and in 2012, he starred as Gale Hawthorne in The Hunger Games film series, based on an adaptation of Suzanne Collins' best-selling novel series. His big brothers, Luke and Chris, are also actors.
Relationship with Miley
Edit
While filming The Last Song in June 2009, Liam began a relationship with his co-star, Miley Cyrus. After 3 years of having an on & off relationship, the couple announced their engagement in May 31, 2012. They lived together in Los Angeles but ended their engagement in September 16, 2013. In July 2014, Liam noted that he & Miley would "always be best friends" and they had "an instantaneous and powerful connection." They got back together & got re-engaged on January 21, 2016.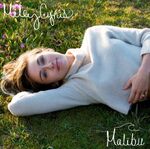 Miley's song Malibu discusses her relationship with Hemsworth. She described the song as being about "finding a new love with an old love", and about finding a "new freedom" in that. The cover artwork of "Malibu" was revealed on May 10, showing Cyrus lying on top of the grass back in her backyard, with her engagement ring on; it was taken by Hemsworth.