Justin Michael Gaston
(born August 12, 1988), better known as
Justin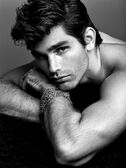 Gaston
, is an American singer-songwriter, model, and actor who was also a contestant on
Nashville Star
on season 6. He finished 10th overall out of 12 contestants.
He portrayed the role of Ben Rogers on Days of Our Lives for less than four months in 2014.
He appeared on the magazine cover of Tetu in 2013.
Justin and Miley
Edit
Justin and Miley Cyrus were linked as a couple in 2008. It was controversial because of the difference in their ages; they started dating when Gaston was 20 and Cyrus was 15. When they broke up in June 2009, they each posted their sadness on Twitter. Cyrus, then 16, wrote "Tears are words the heart can't express." The next morning, Gaston, 20, tweeted "How many tears are in there? They've gotta run out soon, right?"
He married actress Melissa Ordway on September 22, 2012. He and Ordway have an adopted daughter, born in 2016.
Ad blocker interference detected!
Wikia is a free-to-use site that makes money from advertising. We have a modified experience for viewers using ad blockers

Wikia is not accessible if you've made further modifications. Remove the custom ad blocker rule(s) and the page will load as expected.