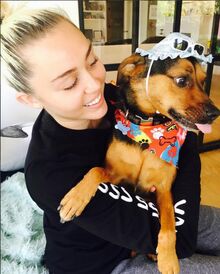 Happy is a Rottweiler Beagle mix who was found by Miley and Liam abandoned in a box in front of a Walmart on May 2, 2012. Miley tweeted "He was left in a box Infront of Walmart. I don't understand how people can be so cruel.", "That's why we named him Happy." Later tweeting, "Theres times when I think we dont rescue them but they save us. He brings so much joy into my life.We are BOTH so grateful".
For Christmas Miley got Happy and the rest of her dogs a Chanel blanket to sleep on.
Just like Mary Jane, Happy loves to take walks.