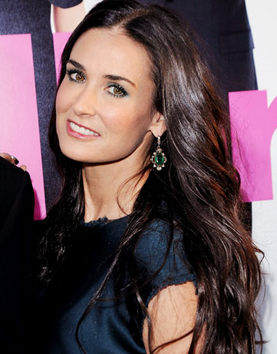 Demi Moore (born November 11, 1962) is an American actress, film director, film producer, and model who provided the speaking voice of Esmeralda in Disney's 1996 animated film, The Hunchback of Notre Dame, and its 2002 sequel.
In 2004, Sophie Muller wanted Demi Moore to play the abused socialite mother and Adam Levine's love interest in the music video for Maroon 5's single "She Will Be Loved", Demi, however, respectfully turned down the role for the music video because she was starring in a movie at the time.
In 2012, she starred as Miley Cyrus's character's divorced mother in the 2012 coming-of-age romantic drama, "LOL".
Personal Life
Edit
On February 8, 1980, she married singer Freddy Moore, 12 years her senior. Before their marriage, Demi had already begun using Freddy's surname as her stage name. She filed for divorce in September 1984; it was finalized on August 7, 1985.
Following her divorce from Freddy Moore, Moore was engaged to actor Emilio Estevez. The pair had planned to marry in December 1986, but called off the engagement.
On November 21, 1987, Moore married her second husband, actor Bruce Willis. She stated on her marriage license that this was her first marriage, explaining in an interview the following year, "I did it only because I thought it was going to take longer if I put that [first marriage] on there." She and Willis have three daughters together: Rumer (born August 16, 1988),Scout (born July 20, 1991), and Tallulah (born February 3, 1994).The couple separated on June 24, 1998, but did not file for divorce until October 18, 2000.Their divorce was finalized one day after the filing. Moore had a longstanding relationship with martial arts instructor Oliver Whitcomb, whom she dated from 1999 to 2002.
In 2003, Moore began dating actor Ashton Kutcher, who is 15 years her junior. They married on September 24, 2005. The wedding was attended by about 150 close friends and family of the couple, including Willis. In November 2011, after months of media speculation about the state of the couple's marriage, Moore announced her decision to end her marriage to Kutcher. After over a year of separation, Kutcher filed for divorce from Moore on December 21, 2012 in Los Angeles Superior Court, citing irreconcilable differences. Moore filed her response papers in March 2013, requesting spousal support and payment of legal fees from Kutcher. On November 27, 2013, their divorce was finalized.
Image Gallery
Edit
LOL Image Gallery
Edit