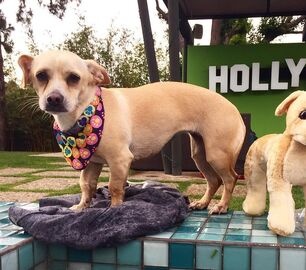 Bean was adopted in early January 2013, She was first introduced via twitter when Miley tweeted "Meet Bean," she wrote excitedly. "Bean is a little girl. She is a chihuahua mix of some type. She brought so much sunshine!"
Bean is Miley's smallest dog.
Miley dresses Bean up for Halloween every year, past years she has been a Hot Dog, Hamburger & a Taco.
her nickname is "little burrito".
Since Bean is so little Miley loves to dress her up!
Miley said Bean, Mary Jane and Happy have their own "sqaud".