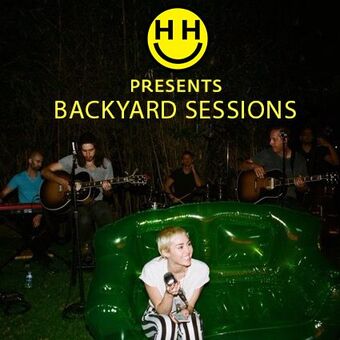 The 
Backyard Sessions
 are two series of music videos released by Miley Cyrus on YouTube in 2012 and 2015. The 2015 series coincided with the formation of Cyrus's philanthropic organization, the Happy Hippie Foundation, and were billed as "Happy Hippie Presents Backyard Sessions".
Background
Edit
The first series was released between September and December 2012, and showed Cyrus performing covers of classic songs with her band in an outdoor setting. Performances included "Lilac Wine" by James Shelton, "Look What They've Done to My Song Ma" by Melanie Safka, and "Jolene" by Dolly Parton. In 2015, Cyrus released a new set of Backyard Sessions videos to publicize the launch of the Happy Hippie Foundation. On May 6, the first daily video was posted to social media. Cyrus performed with Joan Jett of The Runaways, covering Jett's 2013 song "Different". In the second video, released a day later, Cyrus covered Dido's "No Freedom", dedicated to Leelah Alcorn, a teenage transgender girl who killed herself by walking out in front of traffic the previous December. Three more videos were posted on May 9, 2015. In the first, Cyrus performed "Androgynous" by The Replacements alongside Jett and Against Me! frontwoman Laura Jane Grace, who came out as transgender in 2012. In the fourth installment of the Happy Hippie Backyards Sessions, Cyrus provided backing vocals for Grace's performance of the Against Me! song "True Trans Soul Rebel".
Cyrus was joined by Melanie Safka for performances of "Peace Will Come (All According to Plan)" and "Look What They've Done to My Song Ma", as covered in the original Backyards Sessions videos.[9][10] On performing with Cyrus, Safka commented that Cyrus showed "only the part she wanted me to see," but added that she was "very accommodating" Her heart is really in the music. The true test of character, for me, is if your heart is in the music."[11] Safka credited the videos with an increase in young people at her concerts. Safka also performed a rendition of "Yaw Baby (Break My Heart)" while Cyrus watched in the background.
Cyrus was joined by Ariana Grande for a cover of "Don't Dream It's Over" by Crowded House. Cyrus wore a unicorn onesie, while Grande wore a mouse onesie. The pair reprised the performance at the One Love Manchester benefit concert organized by Grande in June 2017. In the final Happy Hippie Backyards Sessions videos, Cyrus performed solo. She sang "Pablow the Blowfish" in memory of her recently deceased pet fish.The song later appeared on Miley Cyrus & Her Dead Petz (2015). She also performed a cover of "Happy Together" by The Turtles, as well as Paul Simon's classic "50 Ways to Leave Your Lover".
Image Gallery
Edit