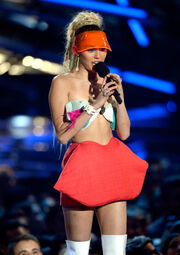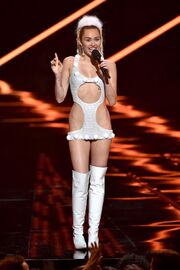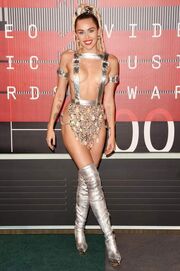 The 2015 MTV Video Music Awards took place on August 30th, 2015. The show was held at the Microsoft Theater in Los Angeles, and was hosted by Miley Cyrus. The show started at 9pm, and was live on MTV.
On July 20th, 2015, Miley posted photos on Twitter, saying "MTV WON'T LET ME PERFORM, SO I'M HOSTING THIS YEAR'S VMA'S.". It is still not said if Miley will be performing, or not.
Video Promo's
Edit
Six, short promo videos were released to get everyone pumped up and excited for Miley hosting.
Fight with Nicki Minaj
Edit
When Nicki Minaj came to collect her award for Anaconda, she did a speech. After her speech, she said 'And now back to this ..... who had a lot to say about me the other day in the press, Miley whats good'. Miley replied with 'We're all in this industry, and we all now how to manipulate. Nicki, congratu.......lations'.
Surprise Performance and New Album announcement
Edit
At the end of the show, Miley performed a brand new song called Dooo It! and like every Miley performance, there was controversy. After performing, she announced that her brand new album 'Miley Cyrus And Her Dead Petz' had just been released online for free.